Ford Ranger vs Toyota Tacoma

Our team at Norm Reeves Ford Superstore Cerritos is excited for the return of this well-constructed, midsize pickup truck with the new Ford Ranger inserted back into the lineup of Ford models. But how does this truck compare to other similar models in its class?
We took a look at the 2020 Ford Ranger vs. Toyota Tacoma to see how these two trucks stack up. Drivers from Buena Park, Long Beach, and Orange County will enjoy reading about the comparison of these two vehicles!
Heavy-Duty Performance


2020 Ford Ranger performance Cerritas, CAWhen it comes to these trucks, you can rely on their solid performance. The 2020 Toyota Tacoma offers a few engine options, including a 3.5-liter V6 engine. This one is capable of 265 lb-ft of torque, for a powerful drive you can feel in every turn.
In comparison, the Ford Ranger comes with an impressive 2.3-liter EcoBoost® engine. The engine is designed with a precise direct-injection system, as well as 16 valves, producing 310 lb-ft of torque. This single engine, which is available for all trim levels, packs more power than that of the Toyota truck.
Ranger vs Tacoma Towing Capacity
2020 Ford Ranger towing Cerritos, CAThe power of the 2020 Ranger means that it is capable of towing far heavier loads than the Toyota Tacoma. The Ford pickup has a towing capacity of 7,500 pounds and is capable of holding a maximum payload of 1,860 pounds when properly equipped.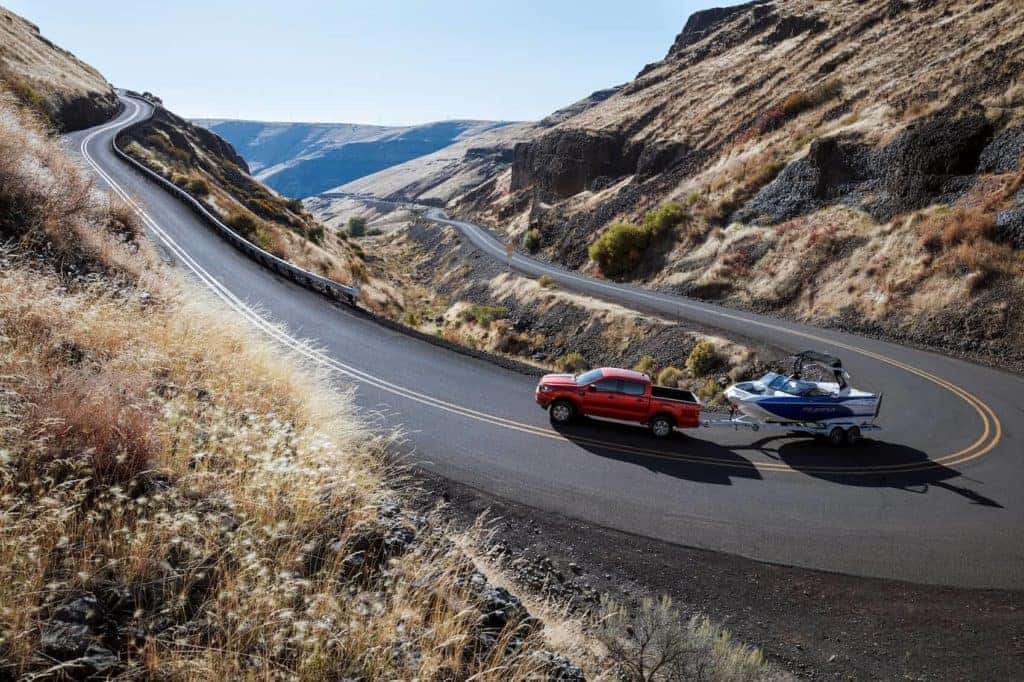 And that's not all the Ford Ranger offers in terms of towing power! Cars with 4×4 can opt for the new FX4 Off-Road Package, which comes with special off-terrain tires with aggressive tread, as well as the traction-enhancing, electronic-locking rear differential. You also get a cluster screen that provides feedback on the movements of the truck and trailer as you travel, as well as steering angle.
Meanwhile, the new Tacoma has a more modest towing capacity of 6,800 pounds when properly equipped. Its maximum payload comes in at 1,440 pounds-not nearly up to the standards of the Ford Ranger.
Ford Ranger MPG vs Toyota Tacoma MPG
Both trucks do a relatively good job at efficiently using fuel to balance the strength that they both possess. The 2020 Tacoma will give you 18 city/22 highway MPG with its standard powertrain. There are various configurations you can get to slightly improve its highway gas mileage, but it doesn't quite reach the efficiency of the Ford Ranger.
The Ford Ranger will give you up to 21 city/26 highway MPG across all trim levels. The Ranger achieves this efficient performance with the smooth shifting of its 10-speed SelectShift® automatic transmission and Auto Start-Stop Technology in the engine. This will automatically shut the engine off when you are stopped, then immediately restart it again the second you take your foot off the brake pedal.
Entertainment Options
2020 Ford Ranger interior entertainment Cerritos, CAWhile both trucks give you the ability to connect your smartphone with hands-free technology, only the Ford Ranger has the available SYNC® 3 system. This gives you the added bonus of Apple CarPlay™ and Android Auto™ compatibility, which allows for a more seamless and personalized connection to all your favorite phone apps and features.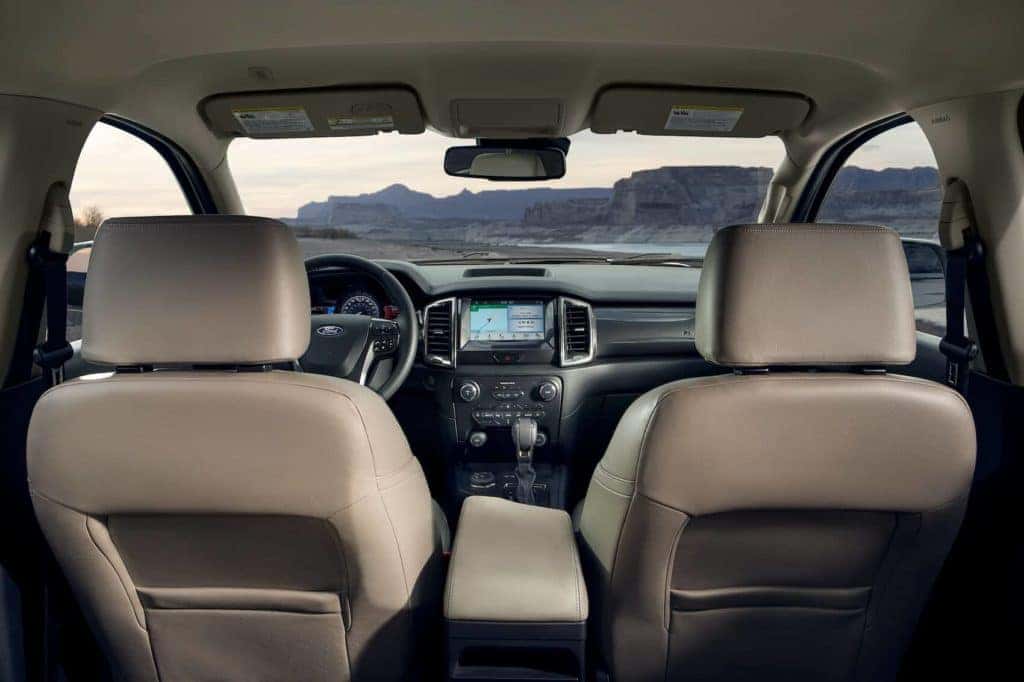 The Ford Ranger also offers far more convenient features than the Toyota Tacoma. The Ranger pickup offers FordPass™ Connect 4G LTE, which allows you to connect up to 10 devices to the Wi-Fi in your truck at the same time. You can even use the Wi-Fi up to 50 feet away from your vehicle, so you can stay connected no matter where your adventures take you.
The Toyota Tacoma provides the available Entune™ Audio System, which allows you to stream your smartphone services through Bluetooth®, but if you're hoping for navigation features or advanced compatibility, you'll have to look for available options in different trims.
Ford Ranger vs Toyota Tacoma Durability
2020 Ford Ranger durability Cerritos, CABoth trucks have serious off-roading chops and are reliable vehicles, no matter the terrain you drive it on, with plenty of features available to give you top performance in all conditions. But with its exterior style and overall body structure, the Ford Ranger comes with a stouter build and design.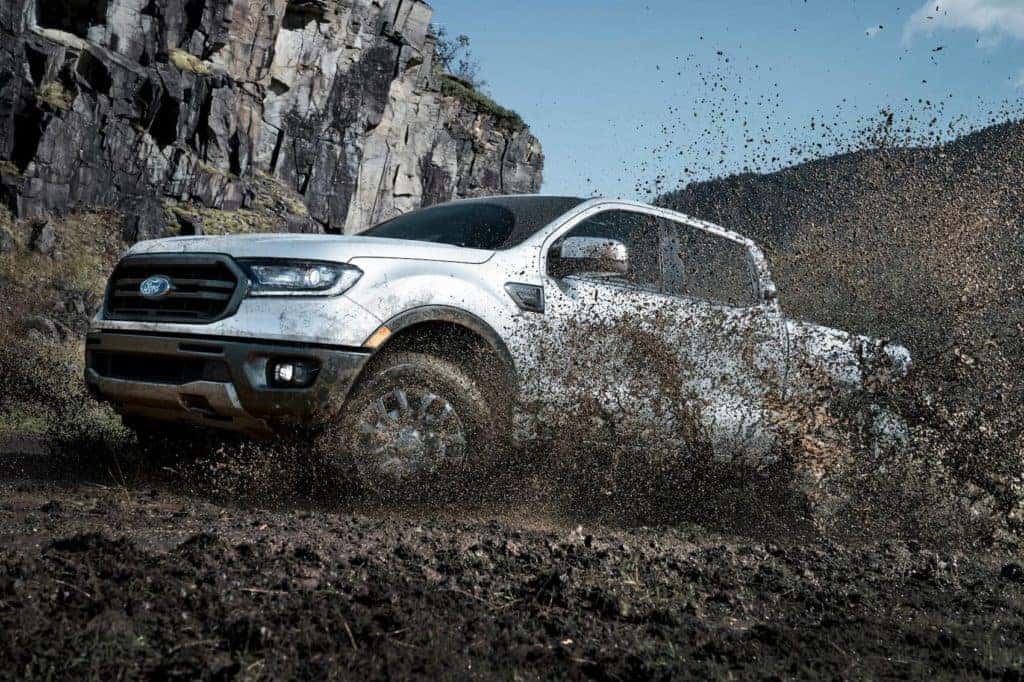 The Ranger sports an athletic stance with a raked grille and windshield that is appealing on the outside and helps keep things quiet on the inside. The sturdy skeleton of the new Ranger is Built Ford Tough® with the high-strength steel frame backbone and frame-mounted steel front and rear bumpers.
The 2020 Ranger pickup also comes with a double A-arm independent front suspension, which is tailored for agility and control in even the toughest off-road terrain. The shock absorbers are the monotube type, which allows for a smoother driving experience, and more control over the vehicle. All of this adds up to a powerful, durable ride that the 2020 Toyota Tacoma just can't equal.
In contrast, the Toyota Tacoma offers a high-strength steel that is more durable than standard trucks. The steel is hot-stamped, high-strength alloy that helps boost performance even while off-roading. While this makes for a tough truck, it still can't hope to match the sheer durability of the 2020 Ranger.
Safety
For safety features that will make you feel secure on any terrain, you'll love the Ford pickup. AdvanceTrac® with Roll Stability Control™ keeps you steady even if you corner too quickly or have to swerve suddenly. It uses advanced technology to measure vehicle roll and turning rates, allowing the system to adjust the braking and engine power accordingly to keep you steady.
The 2020 Ranger also has a powerful Rear-View Camera that automatically displays what's behind your vehicle whenever you back up. It even comes with a backup assist grid, so you always know where you're heading.
In contrast, the Toyota Tacoma offers the Trailer Sway Control. This is a system that reduces sway on your vehicle. It is not standard, and only comes with the available Tow Package.
The Toyota Tacoma does offer an integrated backup camera mounted on the tailgate of the vehicle. However, it does not offer a comprehensive view of what's behind the truck, so drivers should remain aware even when this feature is enabled.
Bed Size and Space
2020 Ford Ranger Cerritos, CAWhen you first look at the bed options of the 2020 Ranger vs. 2020 Tacoma, they seem very similar in size. Both have two separate boxes you can choose between that run similar lengths of about six- and five-feet long.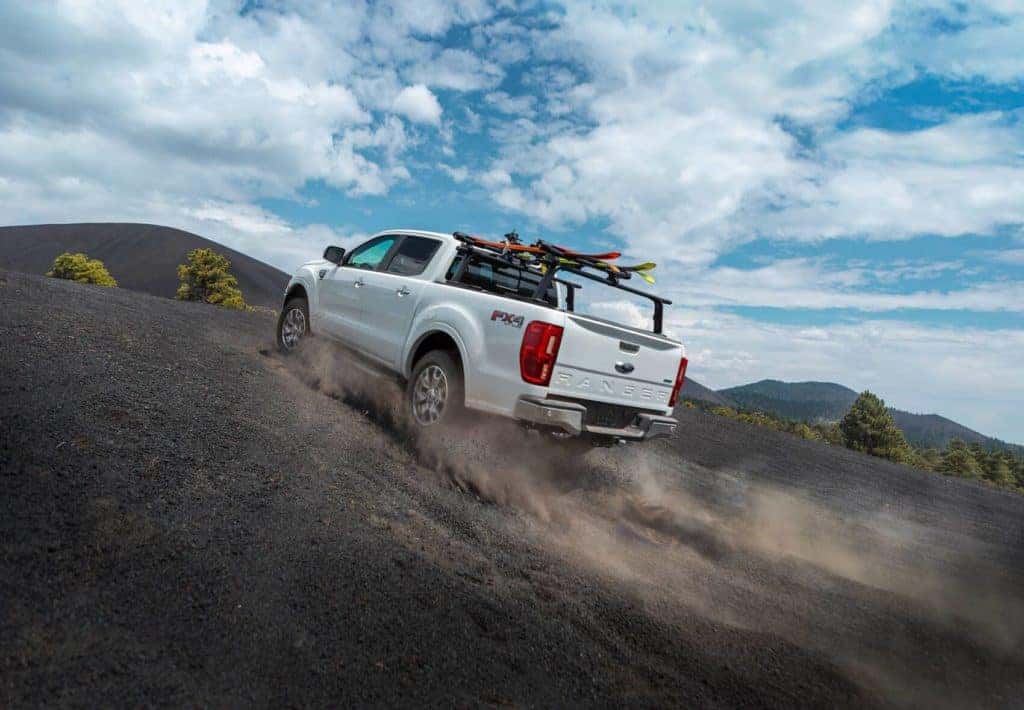 The difference though will be in the interior space they each provide. Regardless of the bed you choose for your Ranger, it will have a depth of 20.8 inches and width of 44.8 inches between the wheelhouses. The bed height for both boxes of the 2020 Tacoma is 19.1 inches. They are also narrower with a width of 41.5 inches. This means you will be able to fit more supplies, tools, or whatever cargo you are hauling in the back of your truck with the 2020 Ford Ranger.
Cabin Configurations
There are also multiple options when it comes to the cabin you choose to have for your truck. Each of them has two options, a more compact style or a more spacious configuration. First, we want to look at the differences between the Access Cab of the Toyota Tacoma and the SuperCab of the 2020 Ranger.
Toyota Tacoma Access Cab

Ford Ranger SuperCab

Passenger Capacity

4

4

Headroom (front/rear seats)

39.7 inches/34.9 inches

39.8 inches/35.9 inches

Legroom (front/rear seats)

42.9 inches/24.6 inches

43.1 inches/30.4 inches
While both cabins can seat up to four people, the SuperCrew provides more personal space to each passenger. Both trucks also have a cabin option with even more room.
Toyota Tacoma Double Cab

Ford Ranger SuperCrew®

Passenger Capacity

5

5

Headroom (front/rear seats)

39.8 inches/38.3 inches

39.8 inches/38.3 inches

Legroom (front/rear seats)

42.9 inches/32.6 inches

43.1 inches/34.5 inches
Interior Comfort
2020 Ford Ranger interior Cerritos, CAIn higher trim levels of both models, there are more luxury features you can add to your truck to give you a high level of comfort while driving. With a rugged exterior comes a comfortable interior with either of these pickups.


You can get the available dual-zone electronic automatic temperature control in each of them that allows you and your front passenger to each adjust the climate settings to your preferred temperature.
The seats also come with an available leather trim for a more premium ride. You can also easily adjust your driver's seat with the power-adjustable seat in both the Tacoma and Ford Ranger.
The Ford Ranger will give you more precision over the seat's position with the available 8-way power seat with power lumbar, for the ultimate comfort during long rides or while driving on uneven terrain. The Toyota Tacoma also features power lumbar support, but only has a four-way adjustable driver's seat.
Visit Our Ford Dealership Today
Now that you've learned about these great vehicles, come see the new Ford truck for yourself! You'll be able to check out all the features and see the performance it's capable of as your next truck for the roads in Buena Park, Long Beach, and Orange County, as well as adventures on other terrain.
So come visit us at Norm Reeves Ford Superstore Cerritos and test drive the 2020 Ford Ranger today! Our helpful and knowledgeable staff is on hand to help you find the car you've been looking for.