Ford Dealer Near Anaheim, CA

Anaheim, CA, is known worldwide as one of the most magical places on earth, and that's not just because it's home to Disneyland. In Anaheim, you'll find just about everything you need to have a great time and a great life. Visitors will love its renowned restaurants and local shops, while residents will flock to the area's beautiful, family-friendly neighborhoods.
Overall, Anaheim delivers a magical experience for those of all ages. And if you want to get a closer look at its many attractions, Norm Reeves Ford Superstore Cerritos, a premier Ford dealer near Anaheim , CA, can help you find a car that'll take you and your family wherever you want to go.
Cars for Sale near Anaheim CA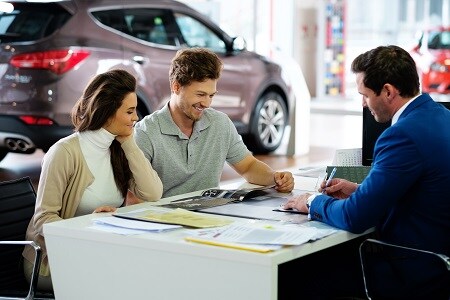 When you're ready to take on the streets of Anaheim in a new car, head over to our Ford Dealership. We offer hundreds of vehicles to choose from, and we'll be more than happy to help you find the one that fits perfectly with your lifestyle. Whether you're in need of a spacious SUV like the Ford Explorer , an adventurous crossover like the Ford Edge , or a fun and efficient sedan like the Ford Fusion, you'll be able to find a vehicle that fits your needs and style.
Those interested in getting behind the wheel of a stylish and beautifully designed vehicle can look no further than our inventory of new Ford cars . Every model in our showroom features incredible design aspects that'll turn heads whether you're pulling into Disneyland or running a few errands around town. They also come with advanced infotainment and safety technologies to ensure entertainment and peace of mind for the road ahead.
Norm Reeves Ford can also help you drive off in a dependable certified pre-owned Ford or used car. Designed to look and perform like new, these vehicles have been inspected to ensure they meet the highest standards of quality and safety. You can find a used car that's in great shape and loaded with some impressive features!
Norm Reeves Ford Staff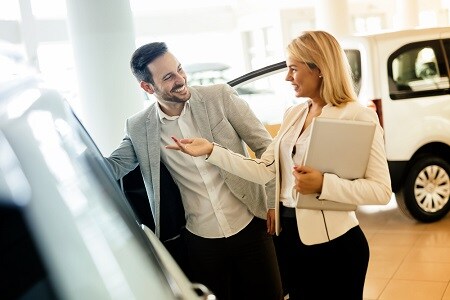 Choosing your next car can be fun and exciting, but when there are so many models that appeal to you, deciding on the right one can be very tough. Luckily, we have a few resources that you can use to not only make the right choice, but get the most out of your experience when you're at our Ford dealership near Anaheim. These resources are designed to provide you with the details that you're looking for toward your next car.
Our Ford reviews give you an in-depth look into your favorite models. They'll highlight the notable engine power, the spacious and comfortable cabins, the assortment of sophisticated entertainment and technology features, and even some of the safety elements that are designed to keep you and your passengers protected. By learning about the model you like in great detail, you can comfortably decide if it's right for you.
If you're torn between a Ford model and a similar vehicle, you may want to read a few of our comparisons. These informative guides take your favorite Ford model, as well as another vehicle that you're considering, and place them right next to each other, feature by feature. These guides then draw comparisons to show how they differ so you can determine your best options.
Ford Financing near Anaheim CA
Our Ford dealer near Anaheim can make buying and owning a brand new car easy, too, with help from our finance and automotive service experts. Whether you want to finance or lease your next car, our finance team will do their best to secure a plan that matches your specific budget. They'll carefully go over each of your financing options to help you find you the right rate and the best deal so you can get started on enjoying your trips in your new Ford!
Ford Service
When your Ford needs routine maintenance or an extensive repair, schedule a service appointment at Norm Reeves Ford Superstore Cerritos, and head over to our state-of-the-art service center. Our Certified Technicians are here to help you get more years and miles out of your vehicle. Using the latest automotive tools and technology, they'll be able to provide your vehicle with the service it needs to get it back out on the road performing at its best. They'll keep you updated on the recommended service intervals, and they'll even perform preventative maintenance so you can stay ahead of any automotive issue.
Our New and Used Car Dealer
There are tons of car dealerships in the area, but our team is different. Not only do we present excellent services and an impressive inventory, but we also offer special perks that make your experience at our dealership even better.
We have convenient hours and online scheduling options. Plus, we're located just minutes away from Anaheim, so you never have to travel too far to experience all that we have to offer.
Best of all, Norm Reeves Ford Superstore Cerritos is proud to offer the Price Protection Guarantee . It states that if you find the same Ford you bought from our dealership elsewhere for less, we'll pay the difference or buy back your car without any hassle!
Schedule a Test Drive
Norm Reeves Ford Superstore Cerritos is here and ready to get you behind the wheel of your perfect new car. So, visit us and experience everything we have to offer. Our Ford dealer near Anaheim, CA, is located just a short drive away from town. Don't wait. Get started by browsing our inventory to get a sense of the models so you can find the right one. You can even stop by to schedule your test drive today!
We are proud to help drivers in Anaheim along on the journey towards their next car.