Maintaining your transmission is one of the most important things you can do to care for your vehicle. However, very few drivers in Cerritos, Long Beach and Anaheim know when to schedule a transmission service. Fortunately, Norm Reeves Ford Superstore is here to help.
On this page, our top transmission specialists have provided everything you need to ensure your transmission is properly maintained so your car performs smoothly for years to come.
Signs that Indicate You Need Transmission Services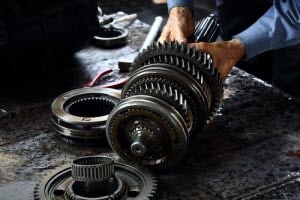 Like all automotive parts, the transmission in your Ford will wear down over time. And when that happens, you'll notice your vehicle start to emit the following warning signs:   
   
Grinding or shaking when changing gears
          
Active Check Engine Light on dashboard
          
Delayed or decreased transmission response
          
Transmission fluid leaks
These warning signs are meant to let you know when your transmission is damaged or worn out. They can appear at any time, so always be aware of how your vehicle is performing and be on the lookout of any of the warning signs listed above when you're driving.
When to Schedule Transmission Services
When your vehicle emits these warning signs, it's telling you that it needs a transmission service as soon as possible. Ignoring these signs results and letting your transmission wear out even further can negatively affect your vehicle's performance as well as your safety.
With that said, it's extremely important to make sure you schedule a transmission service at a service department like the one at Norm Reeves Ford Superstore. Technicians will diagnose and repair transmission issues to help restore your car's smooth performance.
Schedule Your Transmission Service Now
Making sure your car gets transmission services regularly is one of the best ways to preserve its impressive performance. So be sure to watch out for any warning signs and stay on top of your Ford's maintenance schedule so that you know when it's time to make an appointment for your next transmission service.
For more information or the schedule your transmission service near Cerritos, Long Beach and Anaheim, contact Norm Reeves Ford Superstore or set up an appointment online now.