The Ford Mustang is the epitome of a true American muscle car. With an incredible powertrain and advanced performance options, you'll know just how powerful the Mustang is just by hearing that unmistakable engine roar. If you want to keep that engine roaring as you cruise through Cerritos, Long Beach, and Anaheim, you'll need to make sure your Mustang gets the routine maintenance and services it needs.
To help you do just that, here's your guide to the Ford Mustang maintenance schedule.
Ford Mustang Recommended Service Schedule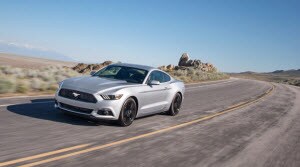 At every service appointment, your Ford Mustang will need an oil and filter change. When you need to schedule this maintenance task will depend on your usual driving patterns.
If you're using your Mustang for daily commutes and highway driving, schedule an oil and filter change every 7,000 to 10,000 miles. If you're constantly putting the pedal to the metal and driving at high engine speeds, your Mustang will need an oil change every 3,000 to 7,000 miles.
To ensure your car gets an oil change at the right time, Ford has equipped the Mustang with the Intelligent Oil-Life Monitor. The Intelligent Oil-Life Monitor can let you know when you need an oil change by keeping an eye on oil condition, your vehicle's mileage, and how your vehicle is used. With this, you won't have to rely on mileage to know when you need to schedule your next oil change.
You also need to schedule the following maintenance tasks at every service appointment to keep your Ford Mustang running at its best for as long as possible:
Rotate tires and inspect tire condition, wear, and tread depth.
Perform multi-point inspection.
Check automatic transmission fluid for vehicles with a dipstick.
Inspect brake pads, rotors, and parking brake.
Check engine cooling system and hoses.
Inspect exhaust system and heat shields.
Check half-shaft boots.
Inspect rear and U-joints and lubricate if needed.
Check steering linkage, ball joints, tie-rod ends, drive shaft, and suspension.
Inspect wheels for excessive wear, looseness, drag, and noise.
Other Ford Mustang Maintenance Items
In addition to all the other services listed above, your Ford Mustang will also need to have its spark plugs replaced, and its accessory drive belts inspected every 100,000 miles. Your Mustang will need to have its automatic or manual transmission fluid as well as its accessory drive belts, and rear axle fluids changed every 150,000 miles too.
Other required Ford Mustang maintenance tasks include:
Replace cabin air filter every 20,000 miles.
Replace engine air filter every 30,000 miles.
Change engine coolant at 100,000 miles, then replace fluid every 50,000 miles.
Keep Your Mustang Running Like a Dream
If you want to keep your Ford Mustang running like the true American muscle car that it is, make sure you give it all the services needed to preserve its performance. So, if your Mustang is due for routine maintenance, schedule your next service appointment at Norm Reeves Ford Superstore in Cerritos near Anaheim and Long Beach today!