When it comes to making the decision on your next SUV, you want to have confidence in its capabilities and overall design, and trust that it'll keep your family safe and comfortable. We at Norm Reeves Ford Superstore Cerritos also understand the idea that you're probably looking for more than just your family's next daily wagon for school or work.  
That's why we put together this 2020 Ford Explorer vs. 2020 Toyota Highlander, so you can leave the lot with a vehicle that can handle anything on the roads of Cerritos, Long Beach, and Buena Park, CA. Continue reading below to find out what these family-sized SUVs have to offer and which one fits your driving lifestyle best.
Explorer vs Highlander: Powerful Engine Rivals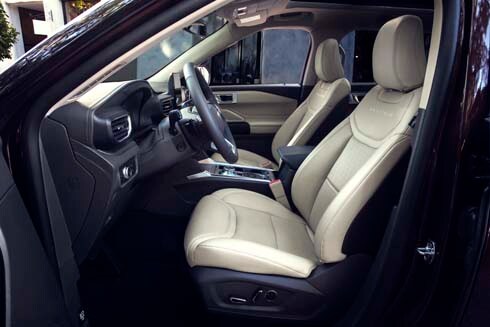 There's nothing small about the Explorer and Highlander, including their engines. Ford provides its drivers with three engine options compared to Toyota's two. Without looking twice to check if you accidentally stepped into the 2020 Explorer ST or Platinum trim, we'll let you know that you didn't-the Base trim really does generate 300 horsepower and 310 lb-ft of torque with its 2.3L EcoBoost® engine.
Hop in the 2020 Highlander and you'll get a 3.5L engine, but it only produces 295 horsepower and 263 lb-ft of torque. This creates a noticeable difference in handling in addition to towing capacity, which we'll cover later. Both SUVs also have an available hybrid engine, though Ford has the edge with a combined horsepower of 310 whereas the Highlander offers 240 horsepower.
For drivers who enjoy that added response when they press the accelerator, a 3.0L EcoBoost® V6 capable of putting out 400 horsepower and 415 lb-ft of torque should be more than enough to satisfy even the most performance-oriented driver.
A Friendly Exterior Design Competition
With assertive exteriors that beg a closer look, the Explorer and Highlander are impossible to simply walk past. The Highlander sits on 18-inch alloy wheels while the Explorer elevates this spec thanks to its 18-inch painted aluminum wheels. Forged aluminum wheels are generally stronger and lighter than similarly sized alloy ones.
The sweeping front end of the 2020 Explorer transitions smoothly from the lower front fascia over the grille, with accentuated hood details and a windshield that disappears into the roofline.
You'll notice a unique grille design on the 2020 Highlander embellished with the Toyota logo, which blends into the rounded LED projector headlamps that taper off into the hood and front quarter panels. Ford took their headlights a step further with Automatic LED Low-Beam Headlamps and signature exterior LED lighting standard on every Explorer.
Explorer vs Highlander: Haul-Ready Capability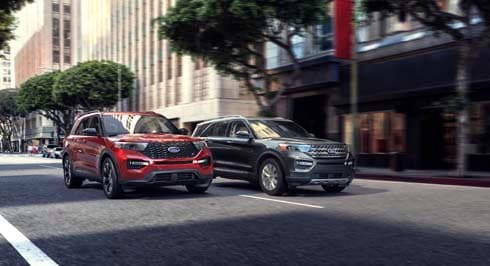 "Towing made easy" should be engraved on the tow hitch of the 2020 Ford Explorer and Toyota Highlander as both vehicles can tow well over 4,000 pounds. When properly equipped with the trailering package, you can expect the Explorer to give you a maximum towing capacity between 5,000 pounds and 5,600 pounds depending on the engine you choose.
While the Highlander's 5,000-pound maximum towing capacity when equipped with Toyota's tow package, upgraded radiator, and engine oil cooler is still impressive, it doesn't quite compete with the towing ability of the Ford Explorer. Those 600 pounds of additional weight could easily be the difference between a midsize or large family camper.
Take the Ford Explorer for a Test Drive Today
Our 2020 Ford Explorer vs. 2020 Toyota Highlander match-up highlights both vehicles in the SUV segment. You can't beat well-equipped and -designed SUVs that are ready for any task, especially when the Explorer and Highlander have been so well regarded through the years. However, the automotive experts at Norm Reeves Superstore Cerritos believe that you'll come to love sitting in the cockpit of the 2020 Ford Explorer.
To truly feel the engineering behind the Ford Explorer, we welcome drivers around Cerritos, Long Beach, and Buena Park, CA, to come down to our dealership to schedule a test drive and ask any questions you may have about the 2020 Explorer.