The Explorer and the Pilot are two of the most-seen SUVs on the streets of Cerritos, Long Beach, and Buena Park right now. There's little question that these two vehicles are both pure powerhouses filled with tons of exciting features. However, that might make the decision hard when it comes time to choose between the two.

To help you do so, the pros at Norm Reeves Ford Superstore Cerritos created this 2020 Ford Explorer vs. Honda Pilot comparison. Below, we put these two SUVs to the test, so you can make an educated decision when it's time to visit our lot.
Pilot vs Explorer-Performance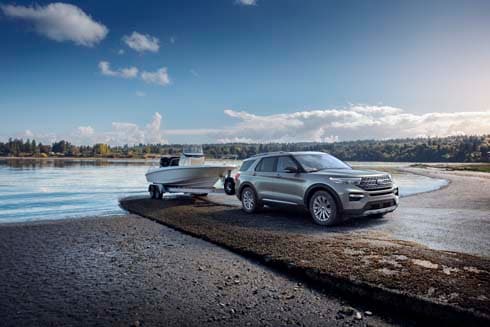 Both the Ford and Honda have very different engines. The Explorer has three different engine options. The base level 2.3L EcoBoost® 4-cylinder produces 300 horsepower and 310 lb-ft of torque. Drivers looking for serious power may want to opt for the 3.0L EcoBoost® V6, which generates 400 horsepower and 415 lb-ft of torque.
The Ford Explorer also offers a 3.3L hybrid engine. This engine can produce 318 horsepower, combined with the electric motor output, and 322 lb-ft of torque. Each Ford Explorer engine comes paired to a 10-speed SelectShift® automatic transmission.
The Honda Pilot includes a 3.5L V6 engine under the hood. This engine is only capable of 280 horsepower and 262 lb-ft of torque. The Honda Pilot only comes with a 6-speed automatic transmission, but drivers can upgrade to the 9-speed automatic transmission.
Ford Explorer vs Honda Pilot-Capabilities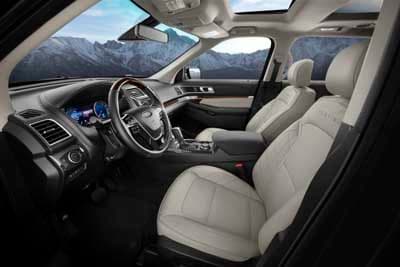 Although what is found under the hood might hold some similarities, when it comes to towing and hauling, the likenesses are null. The Honda Pilot can haul up to 5,000 pounds when properly equipped and comes with no extra features to assist with towing. But, this is probably due to its lower towing capacity.
On the other hand, the Explorer can tow up to 5,600 pounds with the correct equipment and configurations. It also comes with the available towing and trailer sway control. This uses AdvanceTrac® with RSC® (Roll Stability Control™) to keep you on track, even when towing large loads.
Cabin Cargo Capacity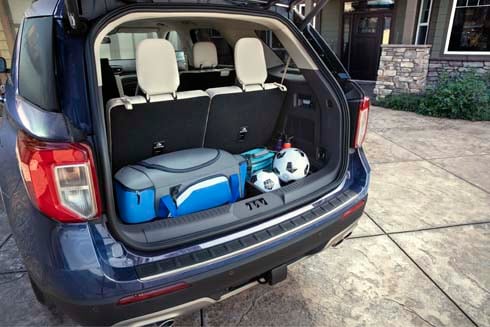 The Ford Explorer and Honda Pilot each offer expansive cabins with three rows of seating that can accommodate seven passengers. While there are slight differences with each row's respective passenger space, the bigger difference is with the amount of room for cargo that these vehicles are able to hold.
When all the seats are in place, the Ford Explorer offers 18.2 cubic feet of cargo space and the Honda Pilot offers 16.5 cubic feet. By folding the third row down, the Explorer expands to 47.9 cubic feet while the Pilot stretches out to 46.8 cubic feet. When the last two rows are folded, the Explorer offers the most room for cargo with 87.8 cubic feet vs. the maximum 83.9 cubic feet of cargo space in the Honda Pilot.
2020 Explorer vs 2020 Pilot-Interiors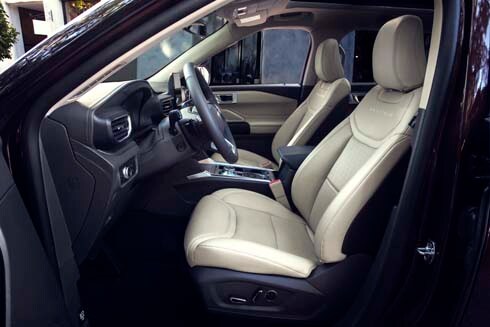 Both SUVs are highly spacious and have excellent cargo areas to store your belongings. However, when it comes to convenience, one of these vehicles might leave you wanting a little more.
The Ford Explorer has the ability to seat up to seven individuals and uses their exclusive PowerFold® Third-Row Seating to accommodate both passengers and cargo. Simply press a button and these seats go flat within seconds.
With the Honda Pilot, you can create more cargo space by folding down the 2nd- and 3rd-row seats, but they have to be done manually, as the PowerFold® technology is only found in Ford vehicles.
2020 Explorer vs Pilot-Cabin Features & Technology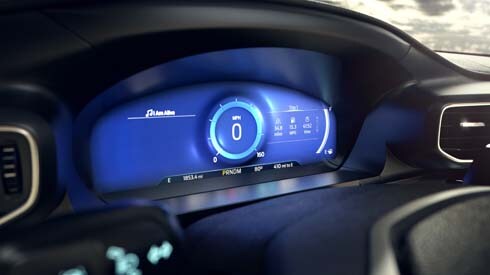 The Explorer and Pilot each offer plenty of fun and sophisticated features  within their respective cabins. Each SUV includes intuitive touchscreens that you can use to access your assortment of media options. The Explorer and Pilot include USB ports, auxiliary inputs, AM/FM radios, and Bluetooth® for streaming and hands-free phone calls.
Each vehicle offers connectivity features. The Ford SYNC® system can integrate your phone so you can easily access your apps, contacts, and libraries from the road. The Honda Pilot does offer similar connectivity with features like Apple CarPlay™ and Android Auto™, but compatibility with those features requires a trim level upgrade.
The Ford Explorer includes FordPass™ Connect at the base level. This integrated app also adds 4G LTE Wi-Fi® Hotspot to the Explorer. The Pilot offers similar features with HondaLink®, but it's not available at the base level. Each SUV also offers a trial of SiriusXM® Satellite Radio. The Ford trial is for six months while the Pilot trial is only for three months.
Explorer vs Pilot Trim Levels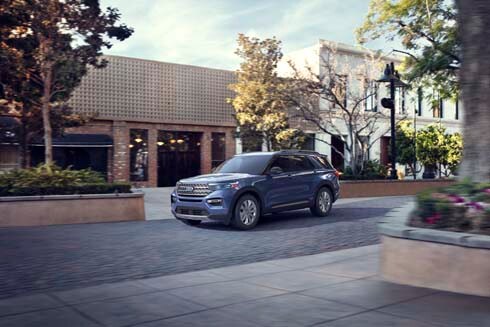 The Ford Explorer and the Honda Pilot each offer their respective drivers the option of numerous trim levels. The Explorer trim levels vary quite a bit with engine options, interior styling, technology and entertainment features, and comfort add-ons.

The Honda Pilot trim levels vary in both style and features, but it only comes with the one 3.5L V6 engine option. It lacks the variety that the Explorer offers with its varying selection of power and performance components.
Another major difference between the Explorer trims and Pilot trims is that the Explorer offers a hybrid option for drivers looking for a more eco-friendly and efficient SUV-driving experience. The Pilot doesn't give drivers this option, as each trim includes the same engine and its horsepower, torque, and fuel efficiency remains the same across all of its trim levels.
2020 Ford Explorer vs Honda Pilot-The Choice is Yours
After reading our Pilot vs. Explorer comparison, have you decided which would suit your needs better on the roads of Cerritos, Long Beach, and Buena Park? Drop by for a closer look and for some experience behind the wheel to really see what this SUV can add to your driving experience.
At Norm Reeves Ford Superstore Cerritos, we truly think you're going to love the Explorer, and we want to prove it to you. Schedule a test drive today and see what this SUV can do for you and your family.