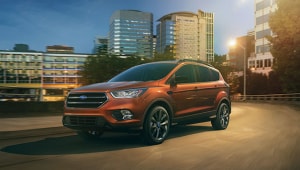 Finding the right midsize SUV to get around the Cerritos, Long Beach, and Anaheim area is important, but finding the right trim level is equally important. Buying a car means that you have to do your research. You need to know which features you're interested in and which trim levels offer those specific amenities. To help you, here's our guide to the different trim levels of the Ford Escape.
In this guide, we're going to show you the differences between the Ford Escape S, SE, and Titanium. We'll look at engine power and interior amenities. By reading this review, you'll figure out which version of the Ford Escape suits you the best.
Ford Escape Engine Power
The Ford Escape S is equipped with a 2.5-liter four-cylinder engine. The SE trim level offers a 1.5-liter EcoBoost® four-cylinder engine, and the Titanium trim features a 2-liter Twinscroll EcoBoost® engine. The S level can reach 168 horsepower, while the SE can get up to 179 horsepower. The Ford Escape Titanium is the showstopper, getting the vehicle to reach an impressive 245 horsepower.
Ford Escape Interior Amenities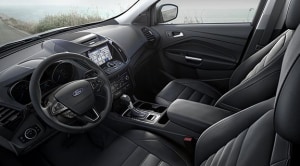 The Ford Escape S and SE are equipped with a six-speaker sound system, although drivers have the option of upgrading the SE sound system to nine speakers. The Ford Escape Titanium features a 10-speaker Sony® sound system, which delivers high-quality audio entertainment.
The Ford Escape SE and Titanium both offer a three-month trial subscription to SiriusXM® Satellite Radio. This service provides you more than 150 different stations of music, comedy, sports, and news.
All trim levels offer the SYNC® system. This feature includes a touchscreen display that drivers can use to access their media options or make phone calls using the Bluetooth® system. The Ford Escape S and SE both come with the SYNC® system with voice recognition technology, which lets you use your own voice to access your features or make phone calls.
The Ford Escape Titanium features SYNC® 3. This system works with Apple CarPlay and can even interact with Siri® for equipped iPhones. This system allows you to access Apple Maps, which provides turn-by-turn directions on a GPS map. This feature even informs you of traffic conditions and road obstructions. The SYNC® 3 system is also an upgradable option with the Ford Escape SE.
Ford Escape Trim Level Overview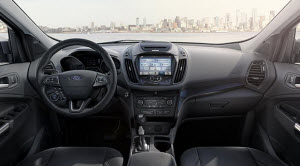 In this guide, drivers like you from the Cerritos, Long Beach, and Anaheim area learned about the Ford Escape and its different trim levels. You learned that with each trim level, there's a rise in engine power, with the Ford Escape Titanium delivering the most horsepower of all the trim levels.
We also looked at the interior amenities of this midsize SUV. You learned that each vehicle features the helpful SYNC® system, but the Ford Escape Titanium features the SYNC® 3, the latest generation of this infotainment system. You also learned that each level offers a different amount of speakers, and the SE and Titanium offer a trial subscription to SiriusXM®.
Still having trouble figuring out which trim level is right for you? Schedule a test drive of the Ford Escape at Norm Reeves Ford Superstore. We'll help you figure out which trim level is right for you.