What different types of technology will you find in the Ford Edge? Well, you'll find a wide variety of available features, such as SYNC® 3, SiriusXM® Satellite Radio, a Front 180-Degree Camera, etc. However, in a broader sense, it's safe to say that you'll find technology that inspires confidence; technology that promotes entertainment; and technology that protects you, your family, and your friends. Interested?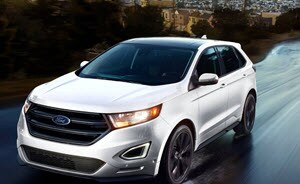 We hope so. After all, that's why our team here at Norm Reeves Ford Superstore Cerritos wrote this Ford Edge Technology review. We want to spark an interest in the minds of our customers from Cerritos, Long Beach, Anaheim, and the surrounding California towns and cities. Contact us if you want more info.
SYNC® 3: Smart Hardware-Smart Software-Smart Design
Those are the very words that you'll find on Ford's website; the very words that they use to describe their state-of-the-art SYNC® 3 technology. This responsive, voice-activated technology is quite easy to navigate, as it's designed with the driver in mind. Its sleek touchscreen interface is reminiscent of a smartphone. In fact, it even allows you to hook your compatible smartphone right up with the Edge!
SYNC® 3 Tech lets you control it all, from audio and climate, to calls and navigation, to apps and beyond.
Edge Technology: Safety & Parking
Next, we'll dive into some of this crossover's high-tech safety and parking features. Check them out!
Available Enhanced Active Park Assist. This tech feature will turn even the trickiest parking lots into a piece of cake. What about the icing on top? That would be the available Front 180-Degree Camera, ok?
Available Adaptive Steering. Imagine if your front wheels responded to your steering inputs based on how fast you were driving. Well, you can stop imagining now, because Edge's Adaptive Steering is here.
BLIS® with Cross-Traffic Alert. This available Blind Spot Information System (with Cross-Traffic Alert) is perfect for everything from changing lanes to merging to backing out of your driveway in reverse. Wow!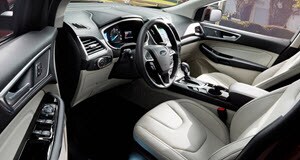 Lane-Keeping System. The impressive combination of Ford's Lane-Keeping Alert with its Lane-Keeping Aid will keep you as centered in your lane as you can possibly be. And that's good for everybody, yeah?
Entertainment Technology: SiriusXM® Satellite Radio
Last, but certainly not least, we'll talk about the entertainment universe in the Ford Edge. In other words, we'll talk about the universe of SiriusXM® Satellite Radio. It has everything you want and need.
We're talking about over 150 channels. We're talking about music, sports, news, and all other types of entertainment. We're even talking about a six-month trial-subscription to the All-Access Package. Yeah.
Get in touch with us today to learn more about Ford Edge technology!
If you live around Anaheim, Long Beach, or Cerritos, then Norm Reeves Ford Superstore Cerritos is the place for you. Our customer representatives can answer any and all questions about the Edge, ok?
To reach out to us, simply call us on the phone, stop by our showroom in person, or chat with us online.