Properly maintained brakes are the key to ensuring your safety when cruising through Cerritos, Anaheim and Long Beach. That's a fact that Norm Reeves Ford Superstore understands well, and that's why we work to keep your brakes running smoothly to ensure your peace of mind.
But we also understand how difficult it can be to understand when your brakes need servicing. So our brake specialists have provided some helpful details to help you keep your brakes running properly.
When to Schedule Brake Service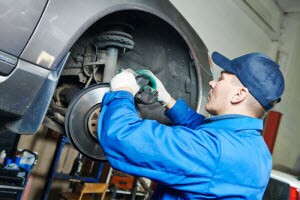 When your brakes need servicing, they'll start to emit a number of warning signs to let you know that it's time to schedule a service appointment. Some of these warning signs include:   
   
An active dashboard warning light
          
Vibrations in the brake pedal and steering wheel when you hit the brakes
          
High-pitched squealing when you tap on the brake pedal
Each one of these signs indicates serious brake problems that can affect your safety and lead to an increased risk in accidents. So always keep your eyes and ears open when you're driving and be aware of anything out of the ordinary.
Schedule Your Brake Services Now
When it comes to your brakes, the earlier you have them serviced, the better. This is because the longer the go unmaintained, the more they wear out and get damaged which result in a severe accident. Simply put, you never want to drive with worn out or damaged brakes.
So the second you start to experience any one of the warning signs mentioned above or if you're overdue for a service appointment, contact a professional dealership like Norm Reeves Ford Superstore immediately. When you do, expert technicians will inspect your brakes and repair any damage or replace any parts if necessary.
With their help, your brakes will be better able to ensure your safety for the road ahead.
For More Information
Norm Reeves Ford Superstore is dedicated to providing drivers in Cerritos, Anaheim and Long Beach with the quality brake services they need.
So if you have any questions or would like to schedule your next brake service, contact us or schedule your service appointment online now!