French crepes are sweeping the nation, and it's easy to see why. They're light and come with all kinds of fillings to satisfy your every craving. You can find great crepes anywhere in the area, but only the best crepe shops near Cerritos, CA, can make them taste like they're straight from a boulangerie in Paris.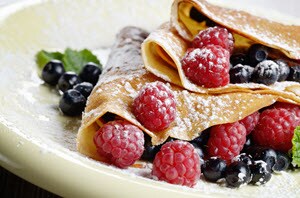 Check them out below to find out where you can find the best crepes near Cerritos.
Crepes Bonaparte
Crepes Bonaparte technically isn't a shop, but this food truck does serve some of the best crepes in the area. From breakfast to savory to dessert crepes, they can pretty much make any type you want.
If the name sounds familiar, Crepes Bonaparte is a nationally recognized food truck that's been featured on the Food Network, Cooking Channel, and in QSR magazine as one of the Top Food Trucks in America.
What to eat: Everything on Crepe Bonaparte's menu is wonderful, but if you're a fellow breakfast lover, then you need to try their Wake Up Call crepe. Loaded with roasted tomatoes, avocado, mozzarella, garlic pesto, and a fresh cracked egg, this crepe is the perfect way to start your day.  
Check out Crepes Bonaparte on Facebook for truck stop updates.
Delightful Crepes Café
Delightful Crepes Café is the place to go no matter if you're in the mood for savory crepes with an Italian twist or a decadent dessert crepe. However, you'll find more than delicious French pastries on their menu. Delightful Crepes Café also serves paninis, pasta, and homemade soups and salads.
What to eat: The Margarita Pizza Crepe is, by far, a standout dish at Delightful Crepes Café. This simple entrée is made with all the ingredients you'd usually find in a margarita pizza, but instead of a crust, you get a crepe. Overall, it's light, flavorful, and absolutely delicious.
Connect with Delightful Crepes Café on Facebook to learn more!
Loaded Cafe
You really can't go wrong with any of the crepes at Loaded Cafe. Each one on the menu is made with the freshest ingredients possible for the best taste. There are multiple Loaded Cafe locations, which means you can enjoy any one of their crepes no matter where you are in the Cerritos area.
What to eat: The Chocolate & Peanut Butter crepe at Loaded Café may be simple, but it's decadent enough to satisfy the biggest sweet tooth. This crepe has tons of peanut butter and chocolate and is topped with chocolate chips, whipped cream, and powdered sugar for a touch of extra sweetness.
To learn more, follow Loaded Café on Facebook.
You don't need to go all the way to Paris to find great crepes. Just head over to any one of these eateries near Cerritos, CA, to get a taste of the best crepes in the area.