Battery Repair near Los Angeles, CA
A dead battery can ruin even a perfect day. The engine won't start, the radio doesn't turn on – you can't even roll down your automatic windows. It looks like it may be time to schedule your next service appointment . But where do you go and how do you know it's a place you can trust to take care of everything quickly and accurately?
For fast and reliable battery repair near Los Angeles, our team at Norm Reeves Ford is here to help you. Our professionally trained automotive technicians have the tools and equipment necessary to recharge, repair, or replace your vehicle's battery so you can try to reclaim your perfect day.
Total Battery Repair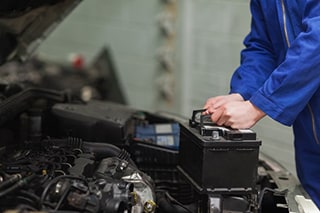 When you bring your vehicle to our service center, we'll start by performing a series of comprehensive tests and inspections to make sure we locate what's causing the battery trouble. This is step is vital because a misdiagnosis could result in unnecessary repairs.
For instance, let's say your battery died, but all it really needs is to be recharged. A simple recharging service is significantly less expensive than, say, purchasing a brand-new battery.
However, if your vehicle does call for a new battery, we have large inventory on hand. We'll make sure to follow the manufacturer specifications and recommendations to ensure the right battery goes in to power your vehicle.
Why Norm Reeves Ford Service?
The reason for choosing Norm Reeves Ford to service your battery troubles is actually quite simple: We're automotive experts.
As a recognized Ford dealership, each and every one of our automotive technicians is required to complete hundreds of hours of hands-on training and must receive certification from Ford Motor Company in order to work on your vehicle.
Plus being backed by a reliable company like Ford means our service department is equipped with the latest tools and repair technology available. This gives us the ability to service your car with speed and precision.
A Quick and Comfortable Service Department
You can rest assured knowing that your battery is being repaired, recharged, or replaced by automotive professionals. We always do our best to complete work as fast as possible without compromising the quality of the job.
But while you're waiting, why not enjoy the free WiFi (coming soon), coffee, and pastries in our service lounge. Sit back and relax while your vehicle is being serviced, and we'll notify you when it's ready.
Ford Service Near Los Angeles, CA
If you need battery repair near Los Angeles , CA, Norm Reeves Ford is just around the corner. For detailed directions, simply type your address into our online map or call us directly at 877-499-9952.
Our service department is located right off Route 605 at 18900 Studebaker Road in Cerritos, CA, 90703. We're easy to get to from Routes 5 and 105.
You can also schedule your next service appointment at Norm Reeves Ford by using our online service request form. Schedule your battery repair service appointment today.